Location
Angorichina Station is located 10 kilometres east of small outback town, Blinman in outback South Australia's Flinders Ranges.
Stretching north from Port Augusta, the Flinders Ranges is one of Australia's most inspiring outback locations. Here, surrounded by the arid wasteland of the great salt lakes, an ancient seabed has been sculpted by millions of years of rain and sun into a fractured, furrowed landscape of deep valleys covered with casuarinas and cypress pines which fall into creeks lined with river red gums.
Air Access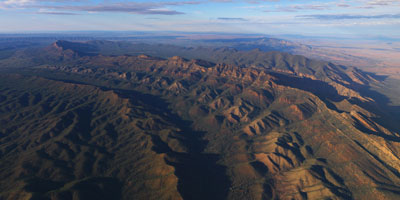 The quickest and most spectacular way to access Angorichina Station is by Private Charter Aircraft.
1 hour and 50 minutes – by Cessna 206 or 210 Private Charter Aircraft from Adelaide's General Aviation Airport.
2 hours and 10 minutes – by Cessna 172 Private Charter Aircraft from Adelaide's General Aviation Airport.
We operate 'Ango Air' providing personalised flight transfers in a Cessna 172 or Cessna 206 or 210 single-engine aircraft, piloted by your host, Ian Fargher or one of his handpicked pilots. The Cessna 172 aircraft is ideal for 2 passengers and the Cessna 206 or 210 is capable of seating up to 5 passengers.
Please note that larger Private Charter Aircrafts can be arranged upon request. We are also able to coordinate flights from locations other than Adelaide, in order to coordinate with your travel plans and save travel time.
Road Access
6 hours – drive from central Adelaide to Angorichina Station.
Private Road transfers – with your hosts can be arranged from Adelaide and various other locations. Di and Ian will share their local's insights to the beautiful South Australian countryside.
Self Drive option – This option is a great way if you like to take things slow, meander your way through country South Australia, perhaps stop for some wine tasting in the Clare Valley!
Detailed driving directions can be provided from Adelaide to Angorichina Station and from Angorichina Station to the Adelaide Airport. If you require driving directions from another location, please ask us and we are happy to assist you with these.